Flexible photo booth hire for your wedding or party.
Leo is a bit different from your average photobooth. Yes, he captures photos and boomerangs. Yes, he features profoto beauty lighting (to make you look gorgeous). Yes – he prints and shares photos instantly, adding personalisation as he goes.
But here's the thing: Leo doesn't go home early. You can pick him up, snap selfies for as long as you like, then drop him back when you're done. Hire him for the whole day, overnight, or all weekend. He's super-flexible.
1. Book Online & Pickup
Check availability and book online. Optionally personalise your prints, then just pick Leo up before your event.
2. Snap, snap, snap
There's no limits on the number of photos and GIFs you can capture with Leo. He'll finish when you're finished.
3. See your snaps online
Drop Leo back and see your photos & GIFs in your very own private online gallery.
Personalisation.
If you add prints to your booking, these can be personalised before your event using our range of pre-designed templates. A blank .psd template is also available for you to design yourself.
Share live from Leo.
Guests are able to enter their email addresses using Leo's touch screen to receive a digital version of their print/GIF. Social links are included enabling them to easily share if they wish.
No Wi-Fi? No problem! If Leo can't connect to the internet, emails are simply queued and sent when Leo next gets online, even if that's after you've dropped him back.
First, select your pickup and drop back dates:
Note our studio is open for pickups and dropbacks between 9am and 6pm Monday to Friday. To arrange an out-of-ours pickup/dropback (including weekends) please contact us.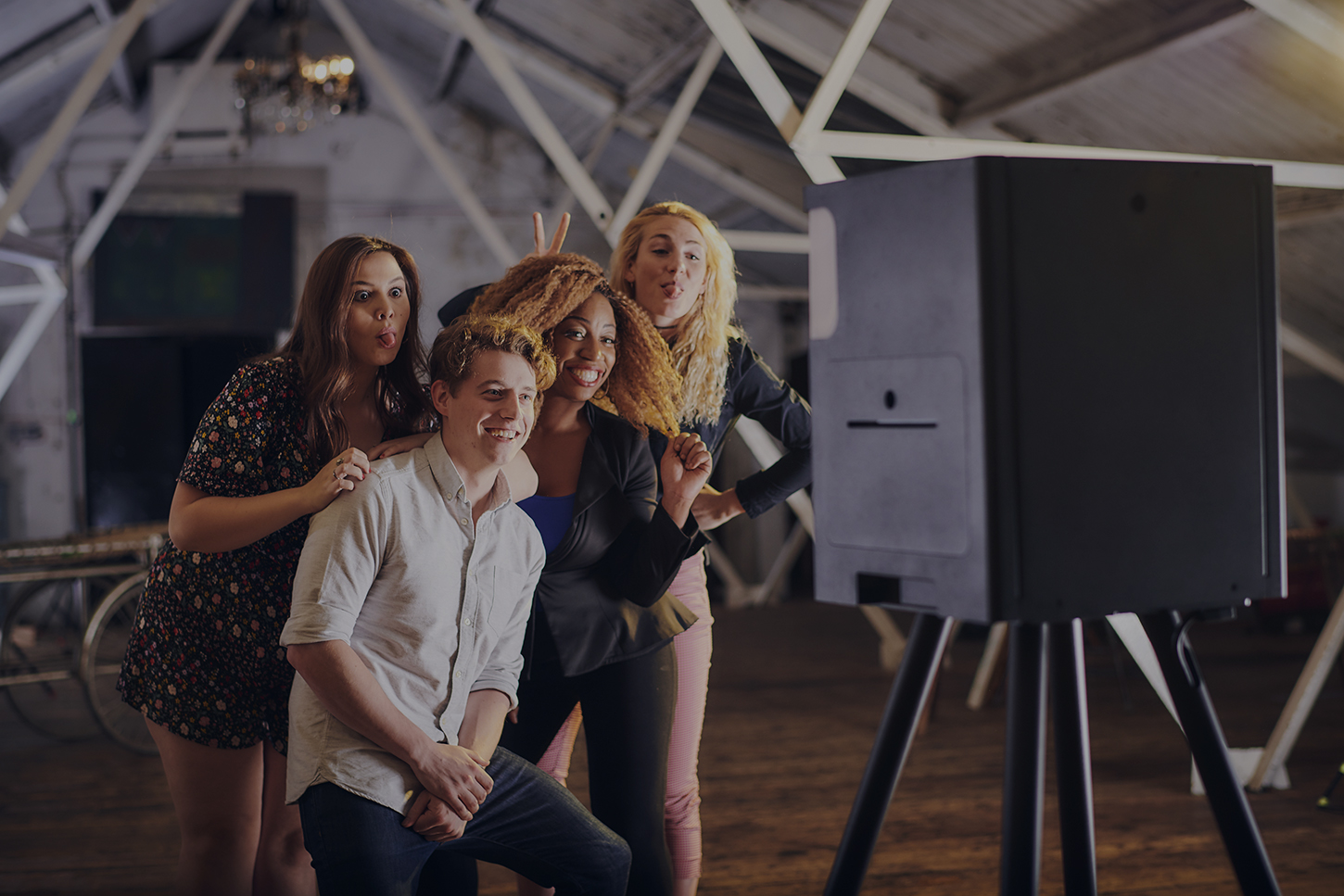 FAQ & things to know

Where can Leo be used?
You can put him on any level surface, including grass. If he's outside, make sure he's protected from rain/snow/mud. He absolutely can't get wet and needs to come back to us in the same condition you picked him up in.

How much space does Leo need?
Not much! He has a neat 50cm x 50cm footprint. You and your guests should stand about a metre or more away from him to get the best shots.
Will I have to pay a deposit?
Yes, we ask for a 25% deposit at the time of booking. This will be deducted from your balance and guarantees Leo will be available for your date.
At the time of pick-up we also ask for a fully refundable £250 security deposit. This will be returned as soon as you bring Leo back providing he comes back safely and on time.

How easy is Leo to setup?
Super easy. We'll provide super easy-to-follow instructions and also offer a demo when you collect. There are no tools involved.
Is there a technical support number?
Yes, just in case. Please see the last page of the instruction manual (provided on pick-up) for contact numbers, reachable 7 days a week between 9am and 11pm.
Can Leo print?
Yes, Leo has an inbuilt printer, to print you just need to add a box of our printer ink and paper to your booking which'll give you 400 4" x 6" (10cm x 15cm) prints.
What if I run out of prints?
We usually find that a box of prints (which contains enough for up to 400 postcard size prints) is plenty. However if you want to be safe, you can add multiple boxes to your booking, any which are returned unused and unopened will be refunded when you return Leo.

Can we personalise the images / prints?
Yes. Prints can be personalised or branded. We'll get in touch before your event to organise this with you (or we can provide a blank template for your designer). We can also personalise your GIFs.
Do you provide backdrops and props?
No. We think the fun of Leo is using whatever is around. Use a wall at the venue, put it on lawn after the ceremony. Personalise it by bringing props that reflect who you are.
Does Leo need Wi-Fi?
If a Wi-Fi connection is available, Leo will email images and GIFs to you and your guests instantly. If there is no Wi-Fi available, he will store everything and send it on to you after your event.
Studio Address:
Unit 70 The Base Dartford, Victoria Road, Dartford, DA1 5FS.
Opening Hours:
Monday - Friday 9am to 6pm.
Please contact us to arrange a pickup / drop-back outside of these times.
Getting Here:
By car; free visitor parking is available for pickups and drop backs.

By train; Dartford train station connects to London Bridge in 30 minutes.
About:
GoPose has been created by the photo booth experts at Just Pose LTD who have been creating event photo experiences since 2012. Just Pose LTD is registered with company number 07828901.
Contact Us.
0207 112 8962
hello@go-pose.co.uk
Office Hours; Monday - Friday 9am to 6pm.